The UVA wavelength can be examined from the side of the display to sterilize the glass surface.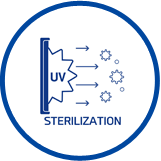 What is UV-A Sanitizing?
UVA is a wavelength that occurs between 315 nm and 400 nm, which is harmless to the human body.
It is a safe source of light for the human body.
It is also designed more safely by spraying UVA on the screen at regular intervals.

Bacterial Sterilization Test Results
#E. coli
#yellow Staphylococcus
#Streptococcus mutans
#Staphylococcus
#Cereus
Sterilize display surface viruses/
bacteria caused by human contact.
UV Sterilization Display Effect
Viral/bacterial sterilization
of display surfaces

Prevent infection caused
by touchscreen contact

Easy to manage
personal hygiene